LOSS - League of Secessionist States: ""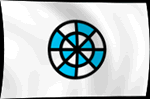 LOSS is a way for micronations to work and act together. What these nations have in common is the voluntary nature of citizenship, which is unrecognized by the established (Macro-)nations. They have often been described as the future of nationhood; communities of like minded individuals who do not rely on an accident of birth or geography to define themselves as compatriots.
---
One of the more interesting members of LOSS is Elgaland Vargaland
The Kingdoms of Elgaland-Vargaland [KREV] were proclaimed in 1992 and consist of all Border Territories: Geographical, Mental & Digital.
With effect from the 14th of March 1992, we are annexing and occupying the following territories:

i - All border territories between all countries on earth, and all areas (up to a width of 10 nautical miles) outside all countries' territorial waters. We designate these territories our physical territory. These territories, usually called No Mans Land or Border Crossings, are in constant flux. They change everyday, and in reports from all over the world we notice that new territories appear (eg the North and South Korean border), dissappear ( the East and West German border in 1989) and reappear (the Latvian, Estonian and Lithuanian borders). We also observe nations' fishing territories waxing and waning. There are frequent foreign violations at sea; vehicles with cargo, refugees, tourists, political and military manoeuvers; animals and fishes walk and swim freely, insects and birds buzz and sing. Theoretically/practically all past exisiting areas such as the borders between Texas and the USA, between England and Scotland or between Skåne (at the time belonging to Denmark) and Sweden are annexed by The Kingdoms of Elgaland-Vargaland.

ii - Mental and perceptive territories such as the Hypnagogue State (civil), the Escapistic Territory (civil) and the Virtual Room (digital).
read more